Hello everyone!!
I hope that your weekend is filled with lots of great fun!!
Today I am here to let you know that we have a new challenge blog..
It's called ELISABETH BELL"S WORLD!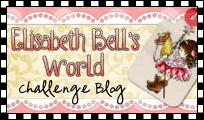 This will be a once a month challenge blog. If you pop over to the blog you will be able to snag this cute blinkie for your blog and you will be able to read all about the rules and how it's going to work. Just click on the blinkie to take you there.
I hope you will hop on over and become a follower and then join us for our first challenge on October 25. We will have some very fun challenges for you!
Also just wanted to remind you that on Monday October 18 we will have the Magnolialicious blog hop. I hope you will come and join us in the fun!
HAPPY HAPPY WEEKEND to you all!!!!